Strategies for Posting Creative Content on Patreon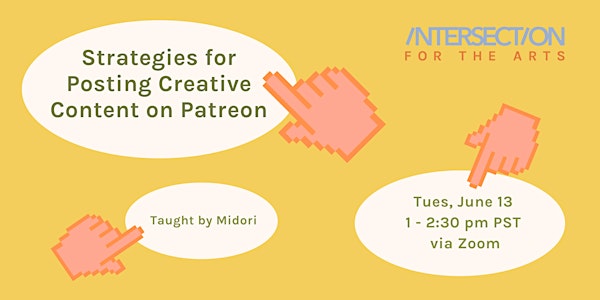 Do you already have a Patreon account or perhaps you're planning to start your Patreon? "What do I post?" is a common question. Content planning and creation can be frustrating – but it doesn't have to be. Our presenter Midori focuses on using Patreon to bring you creative joy and income.
Check Midori's Patreon page. As an independent artist, not an employee of Patreon, Midori shares a perspective. Midori is a multidisciplinary artist based in the Bayview district of San Francisco. For the past seven years, she's figured out how to make Patreon work for her as a steady income stream and source of creative motivation. She works with and coaches artists directly to help develop their own successful and joy-centered Patreon strategy.
Midori will cover the following topics in a frank and interactive conversation: Please come with curiosity
Figure out what types of posts work best for you and your goals
Use Patreon posts to help with your creative process and flow
Create posts that might add to your emotional and creative life
Discover different post types used by creative people
Manage time and energy spent on creating posts
Learn how to schedule posts
Gain insights into what not to post
• • •
Tuesday, May 2, 2023
1 – 2:30 pm PDT
Virtual Event
Zoom Link will be sent to registered attendees.
ACCESSIBILITY
All workshops have closed captioning enabled. A written transcript will be available to all registrants after the workshop. Additional accessibility accommodation can best be fulfilled when communicated within 48 hours of the workshop start time by emailing Amy: amy(at)theintersection.org