[SAN FRANCISCO] Bawdy Storytelling's 'This Feels Dangerous'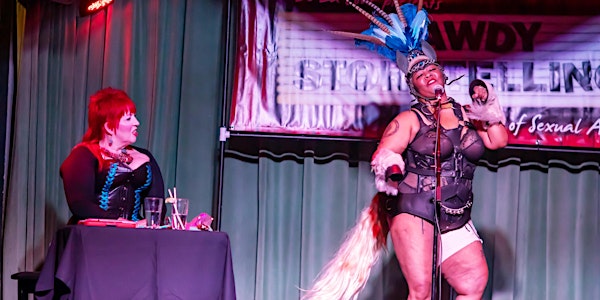 Bawdy's first ever Guest Host is the infamous Mollena Williams-Haas, with stories from Midori, Queer Cartoonist Justin Hall, Dixie & more!
Bawdy Storytelling – the water-based lube for the silicone toy that is your brain – celebrates Halloween, your favorite excuse to dress up and be naughty! Featuring true stories from Famous Kinksters, our first ever guest host – all the way from New York City!, our trademarked audience interaction game, Bang-O, and real people like you telling their true stories of ______ (cause you never know what you'll hear at Bawdy!)
This is not just Dirty Storytelling, this is the real deal – a night of open hearts gathered together to celebrate our unique 'this is me, take it or leave it' life we've created together. Dixie invites you to bring your true self to the Verdi Club, or tune in to the Livestream. Whoever you are, whomever you love, you are welcome here.
Wear a costume to the show if you'd like, we'd love it!
This Evening of Living Dangerously features:
❤ Guest-Hosted by Iconic Storyteller Mollena Lee Williams-Haas
❤ A new story from 'Super Nova of Kink' Midori
❤ A Brand New story by Bawdy's Creator, Dixie De La Tour
❤ Award-winning Queer Cartoonist & Author Justin Hall
❤ Spiritual Advisor & Author Father Ebenezer Johnson
❤ Reserved Seating is held for you all night – and it's right up front!
❤ Play Bang-O & WIN Pervy Prizes, just for making new friends
❤ Custom Bawdy Cocktails to help you get your flirt on
Info + Registration
https://www.eventbrite.com/e/bawdy-storytellings-this-feels-dangerous-1028-sf-tickets-430287811427
About Bawdy Storytelling
Bawdy Storytelling – the Original Sex + Storytelling series – features Real People & Rockstars sharing their Bona Fide Sexual Exploits Live Onstage; think of us as a One Night Stand with The Moth & Savage Love. Storytellers are an eclectic mix of Authors, Porn Stars, Sex Educators, Comedians & more, along with Regular Joes just like you who submitted their stories online and were chosen for their panache and sense of (Mis)Adventure.
Bawdy is a 15 Year Strong Live Stage Show, has been called 'the best Livestream of the entire Pandemic', and is an Award-winning Podcast with millions of downloads. Despite its infamy, it remains inclusive, friendly and every guest is treated like family. It's very important to Dixie that you know you're #OneOfUs
Bawdy Storytelling features tales of Carnal Wins & Epic Fails with No Scripts, No Nets, and No Holds Barred. These folks aren't reading from cue cards: this is honest-to-badness story time with true sexcapades and poignant, transformational tales at each and every show. Join Sexual Folklorist Dixie De La Tour & hand-picked Rockstars as they share their own stories of Love, Lust, and making you feel funny in your bathing suit area. Hey, you may even go home with a few new tricks for your boudoir arsenal!