[SAN FRANCISCO] Bawdy Storytelling's 15th Anniversary!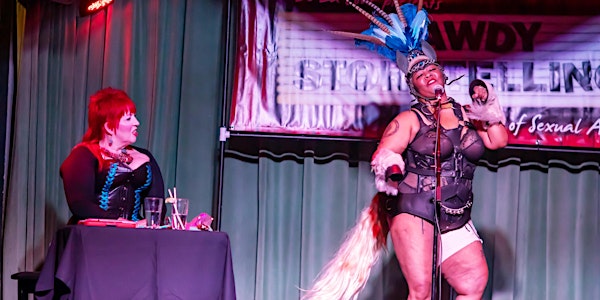 It's been more than TWO YEARS since we've come together in Bawdy's San Francisco home, the Verdi Club. We've missed you!
On Saturday February 26th, come to Bawdy – the birthday candle you just can't blow out – to celebrate FIFTEEN YEARS of Groundbreaking Storytelling-with-an-Edge.
For this big Anniversary blowout, we'll have the notorious and heroic onstage to tell their own scandalously revealing tales, so expect a star-slutted event that will leave no turn un-stoned, take you behind the green door, and give you everything you've come to love about Bawdy.
Sexual Folklorist Dixie De La Tour has been bringing the Nation's Perverrati together on the Bawdy Storytelling stage for years and years to tell their own infamously true tales of lust, love, kinky collisions, gender redefinition, sexual identity, life-changing hook-ups, educational one-night stands & everything in between.
About Bawdy Storytelling:
Bawdy Storytelling – the Original Sex + Storytelling series – features Real People & Rockstars sharing their Bona Fide Sexual Exploits Live Onstage; think of us as a One Night Stand with The Moth & Savage Love. Storytellers are an eclectic mix of Authors, Porn Stars, Sex Educators, Comedians & more, along with Regular Joes just like you who submitted their stories online and were chosen for their panache and sense of (Mis)Adventure.
Bawdy is a 15 Year Strong Live Stage Show, has been called 'the best Livestream of the entire Pandemic', and is an Award-winning Podcast with millions of downloads. Despite its infamy, it remains inclusive, friendly and every guest is treated like family. It's very important to Dixie that you know you're #OneOfUs
Bawdy Storytelling features tales of Carnal Wins & Epic Fails with No Scripts, No Nets, and No Holds Barred. These folks aren't reading from cue cards: this is honest-to-badness story time with true sexcapades and poignant, transformational tales at each and every show. Join Sexual Folklorist Dixie De La Tour & hand-picked Rockstars as they share their own stories of Love, Lust, and making you feel funny in your bathing suit area. Hey, you may even go home with a few new tricks for your boudoir arsenal!

Info + Registration: https://www.eventbrite.com/e/bawdy-storytellings-15th-anniversary-7-pm-sf-live-livestreamed-tickets-231924752177