Truth about BDSM: Bringing Your Fantasy to Life w/ Midori + Nadège of Pleasure Science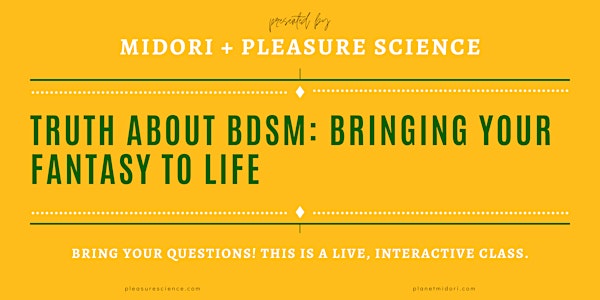 A live, interactive class that empowers your kinky fantasies and helps you bring your BDSM and sex fantasies to life in safe, orgasmic ways.
BDSM allows you to experience your sexual fantasies in real life.
This class is here to guide you through that process so that you can feel empowered, safe, and sexy as you explore the boundaries of your desires.
Discover:
BDSM myths you think are true vs. the reality
How to be a playful, sexual adult through BDSM
Basic negotiation tips that help you bring your fantasies to life
The psychology of sexual fantasy (and why it's healthy to explore your desires)
How to have realistic expectations as you indulge in your fantasies

No experience is necessary, this class is for anyone with an interest in BDSM and sexual fantasy.
Bring your questions! We will be opening up the virtual floor for you to ask anything and get helpful answers from our experts.
Speaking of our experts, this class is led by Midori and Nadège, two leading BDSM and sex experts. Read their full bios below!
*This event will be recorded and a replay will be provided to ticket holders after the class is over.*

Info + Registration: